Speech by Ivan Goh at Book Launch
17 November 2007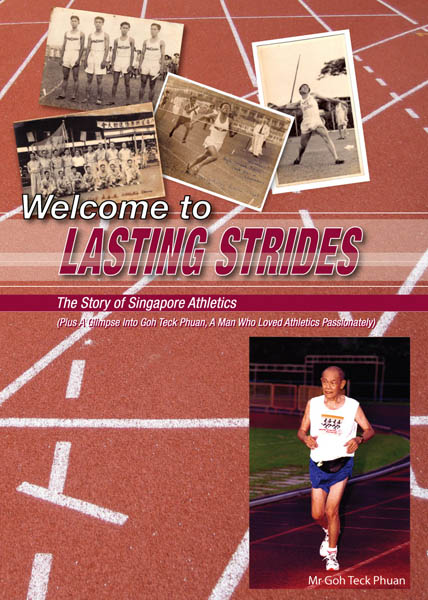 Text of Ivan Goh's speech at the book launch of Lasting Strides on 17 November 2007 at the Arts House.
Athletes, officials, friends and family
Thank you for coming to the book launch of Lasting Strides - a book to record the passion and devotion of athletes and officials in Singapore athletics and a celebration of my father's life in sports especially athletics.
I would like to thank in particular the older athletes and officials for making that extra effort to be here. Also a very warm welcome to Heather Merican who made the longest journey here from the U.S. to join us in this nostalgic gathering.
Those of you who knew my father well, rest assured that this will be a short speech.
I grew up in a home that was sports oriented. I was brought along to all the different sports meets and Swift Committee meetings were held at our house. I used to be awed by the icons of Singapore athletics that would turn up at our house for the meetings - Tan Eng Yoon, Chan Onn Leng, Maurice Nicholas, Low Sin Chock, Jegathesan and many others.
The journey for this book started after my father passed away last April. I came across many sports photos and memorabilia and after discussions with many athletes and officials, it was evident that with so much support from the athletics fraternity, I could try to put in print a book dedicated to my father and other athletes and officials like him who were devoted to and loved the sport passionately.
So now I had a concept - but no money, no writing experience and I lived thousands of miles away from Singapore. My father had huge experience in raising funds for sports during his years as a sports promotion officer and also for the Singapore International Marathon when it was not popular like today. He even raised funds and organised the Singapore Grand Prix for many years until his retirement. Today they are bringing back Formula Car Racing. He was ahead of his time.
However, I had my father's friends and associates who were more than willing to support this project. Loh Lin Kok President of SAA and Swifts fully endorsed the idea and SAA became a sponsor. My father's comrade and co-founder of Swifts, Mr. Tay Boo Jiang fully endorsed the idea and became a sponsor. Now we were talking; and later on more sponsors, mainly Swift supporters Tang Weng Fei, Sng Sze Hiang and some family and friends were approached.
Next I needed a writer and I met Chua Chong Jin, a writer for many sports publications and he liked the idea. I told him I did not have sufficient funds and no experience in publishing a book. He said no worries, he will get started and that's when the interviews got started and the race began.
So here we are today with a book that hopefully brings out the story of Singapore athletics and a glimpse of my father and his love for the sport. We will be giving this book to all schools and libraries so that the younger generations are aware that we had home grown athletes who had competed with passion, despite inadequate equipment and overcame obstacles to reach the international stage. Hopefully, this will inspire our young athletes to follow the trail blazers.
Excess funds over the publication cost amounting to $20,000 will be given to Swift Athletes Association which my father co founded in 1947 to manage for athletes in need of financial assistance. Swift will be naming their Annual Cross Country run in my father's name.
I would like to thank the support given by Loh Lin Kok, Maurice Nicholas, Tay Boo Jiang, SAA, Swifts, Singapore Sports Council, financial sponsors, athletes and officials interviewed, the writing team and the many advisors. A special thank you goes to Enche Othman Wok who was the Minister of Social Affairs and responsible for sports in the 60s and the man who was my father's boss and who believed that he could do the impossible.
Last but not least, I would like to thank my wife and son for their assistance in the concept, proof reading the material and tolerance with me for embarking on such a project. My son, Leonard unfortunately could not be here due to work commitments but he was responsible for putting the slide show together with music and sound bits from the oral archives of his grandfather.
To my mother who is here today, I say dad's contribution to sports in Singapore is now properly acknowledged in print.
When planning for the book launch, I was asked who will be the VIP. My reply was that the only VIPs today are all the athletes and officials who like my father had contributed so much to the sport.
I salute all of you and thank you for coming to the book launch.